About What's app 
WhatsApp Messenger, or simply WhatsApp, is an American freeware, cross-platform messaging, and Voice over IP (VoIP) service owned by Facebook, Inc. It allows users to send text messages and voice messages, makes voice and video calls, and share images, documents, user locations, and other media.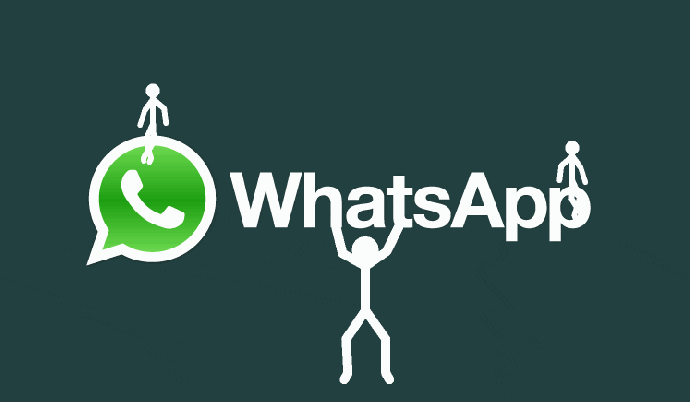 The client application runs on mobile devices but is also accessible from desktop computers, as long as the user's mobile device remains connected to the Internet while they use the desktop app. The service requires users to provide a standard cellular mobile number for registering with the service. In January 2018, WhatsApp released a standalone business app targeted at small business owners, called WhatsApp Business, to allow companies to communicate with customers who use the standard WhatsApp client.
The client application was created by WhatsApp Inc. of Mountain View, California, which was acquired by Facebook in February 2014 for approximately US$19.3 billion. It became the world's most popular messaging application by 2015, and has over 2 billion users worldwide as of February 2020. It has become the primary means of electronic communication in multiple countries and locations, including Latin America, the Indian subcontinent, and large parts of Europe and Africa.
New Rolling Out Features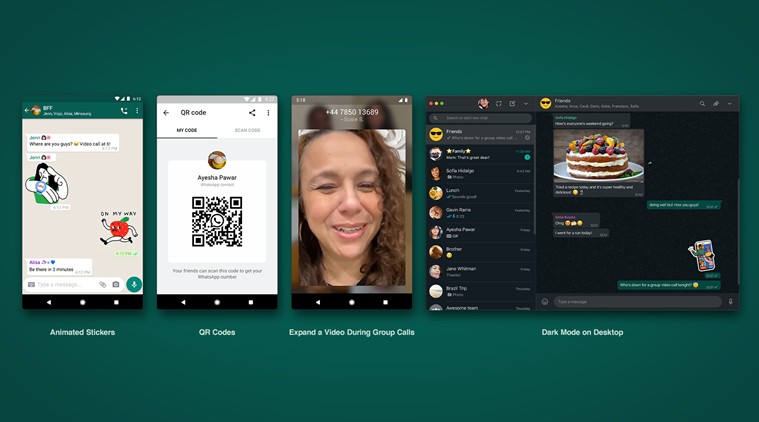 Whats app is Out with its new features for its whats app web users. The features include animated stickers, dark mode for WhatsApp web, QR Codes, Status for KiaOS, and improvements in group video calls. The instant messaging platform by Facebook has confirmed that all these features will be available for users in India in the upcoming weeks.
Animated Stickers for Web
Nowadays WhatsApp is commonly used for professional works by corporates for communicating and maintaining coordination within them and due to COVID-19 pandemic, it is increased highly WhatApp web makes working more effective and efficient it reflects users full chats on the browser by just scanning a QR code that is one of the major reason that it is being used for professional working rather than just being a social media chit chat application.
WhatsApp being a normal chat application is also growing a lot. The app has been working on animated stickers for a while now. The animated stickers feature is now officially launched and users will get their hands on them soon.
The company said in an email statement, "Stickers are one of the fastest-growing ways people communicate on WhatsApp, with billions sent every day. We are rolling out new animated sticker packs that are even more fun and expressive."
Now Google Play Store is having applications from which users can make there own stickers for WhatsApp to use it among friends then it's up to users where to use it and when. But this feature makes chatting more interesting and funny.
QR Codes features
WhatsApp also announced about the QR code feature for user to add contacts, all you need to do is scan QR code to add new contact which is one of the best features to make things more efficient than before cause while working with groups and multiple people on Application adding contacts is a major thing to do.
Dark Mode On WhatsApp Web
Earlier this year Application was updated with dark mode for mobile app. The platform now brings a dark theme for web users. This feature comes at the right time when users are working from home and are using WhatsApp on their desktop more than ever before. The feature will be available for all users in the weeks to come.
WhatsApp recently extended group video call participants to eight from four. The platform is now making it easier for users to focus on whoever they want by letting them press and hold to maximize a participant's video to full screen. Additionally, WhatsApp is also adding a video icon in group chats of 8 or less, so users can easily start a group video call with one tap.
Subscribe to us through the newsletter on our homepage to get notified of the latest articles we post and also make sure to follow our Twitter, Facebook, and Instagram pages for more interaction with us.